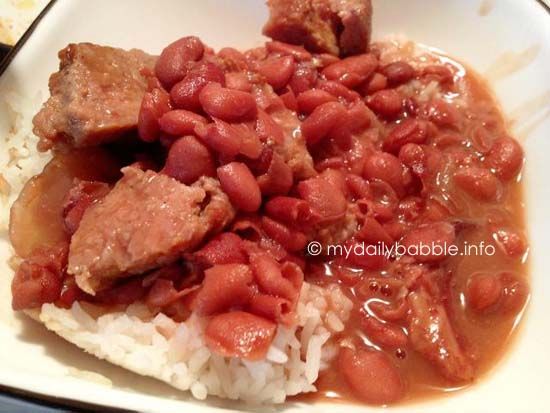 Yes, we had this for dinner last night, and oh it was so yummy and so filling! This is one of my husbands Fave dish, he could eat this for breakfast, lunch, and dinner, he will never get tired of it.
To make this is pretty easy. All you need is Red Kidney beans, a left over ham bone, and smoke sausage which is just optional, but its more tastier if you have this. In this dish, I didnt used a different sausage, not the smoked one. Its because hubby bought the wrong sausage, still I make used of it by frying it first before putting it in.
If you want to make this dish, here is the recipe:
Ingredients
1 ham bone with a little meat still on it (or a lot!)
1 bag small dried red beans (about two cups or so)
1 small onion, chopped
2 cloves minced garlic
2 heaping teaspoons seasoned salt
1 teaspoon each of salt and pepper
Dash of cayenne pepper, or more to taste*
1 cup or so of smoked sausage, sliced (can just use weenies if you like)
1 bay leaf (optional)
Rice, cooked according to package directions
Instructions:
Sort beans (look through them all and make sure there are not small stones) and place in large pot. Cover with water and let soak overnight.
Drain off water and cover with water again, adding several more inches over the top. Add all ingredients except for sausage. Bring this to a boil and then reduce heat and simmer for several hours, or until beans are done. The longer you simmer it, the thicker and more flavorful your juice will be.
About an hour before serving, stir in smoked sausage. Serve over hot rice.*
*This is not a spicy dish so if you prefer it to be more spicy, use more cayenne.
I link this post to Ruby Tuesday