This is my toddlers lunch today…. Chicken Nuggets and Mac & Cheese.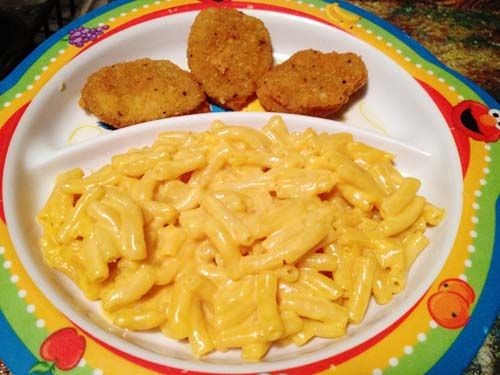 This is my kids favorite food to eat. My toddler could finished this whole plate full of goodies right away. I don't know whats up with this blue box of Mac & cheese, cause if I made it from scratch, they barely touched it, to think its more tastier and yummier. I guess they just want the Macaroni & Cheese from the blue box.
But I like this Mc&Cheese  from Cheese Club much better than Kraft. I bought it Aldi's Groceries, it is cheaper and creamier than Kraft. It makes a lot of Mac & Cheese for 3.9o. Its very easy to make, all you need is butter and milk or water. I like milk much better cause its more tastier. Just boil the pasta with it then when its soften, mix in the cheese packet. Trust me its very yummy. Im sure you will love it too.