I went shopping for groceries a couple of days ago, and bought a lot of sweet goodies for hubby. He mentioned before that he was tired of eating the cookies that I usually get, and he said something about the bread being crusty and all.  So, I got him a lot of junkies to choose from, so far he liked everything that I bought, including this bread below…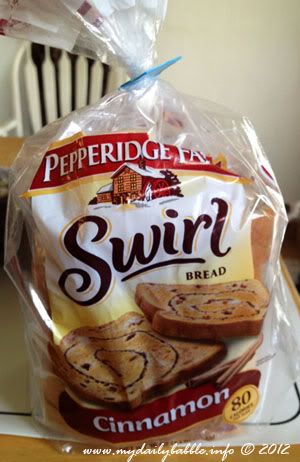 When I saw this.. I thought I would give it a try. Its pretty good really. Not only hubby likes this bread, but also the little guy below.
. He thinks the brown swirls are chocolates
. Obviously, he loves sweets. He was very happy to have a slice of bread on his plate with nothing on it. You dont have to put anything on it, cause its already tasty. And the smell of the Cinnamon is just makes you want to have more. Yum!
I am so happy that I found something healthy that my little buddy likes. Now, I dont have to worry what to feed him.