I had a whole butt shoulder in my fridge, and I dont know what to do about it. I was thinking of making ham, but it made me think that it might not come out good. Then out of nowhere came the idea of Patatim which I haven't tried making one before. I checked online and found out that it's a pig's leg to make a patatim. Nevertheless, I look at the ingredients, and have most of them in my pantry.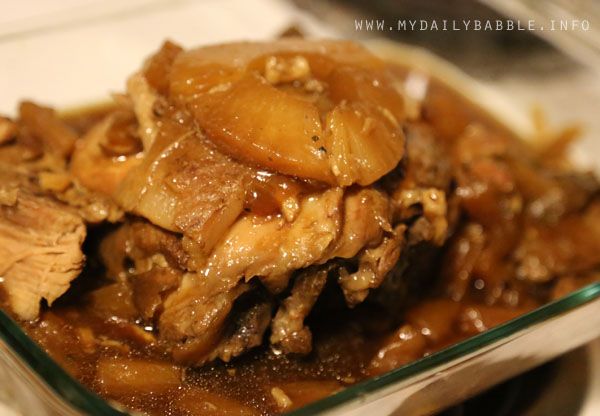 Here is the ingredients that I copied from Cook n Share
Ingredients
1 1/2 kilo pata or 1/2 pork leg
1 bundle bokchoy leaves
1 small onion, quartered
3 cloves garlic, chopped
2 star anise
2 bay leaves
1/2 cup soy sauce
900 ml pineapple juice
1/2 cup brown sugar
2 tbsp cornstarch dissolved in 3 tbsp water
whole pepper corns
water enough to cover the meat
I don't have bokchoy leaves, star anise, and pineapple juice. But I do have pineapple slices which added as a replacement of the juice. I followed the procedure Here, and cut the amount of brown sugar cause I don't want it to taste so sweet. I tell ya, this recipe is very easy, and yummy even though I dont have all the ingredients. The kids and hubby really love it!